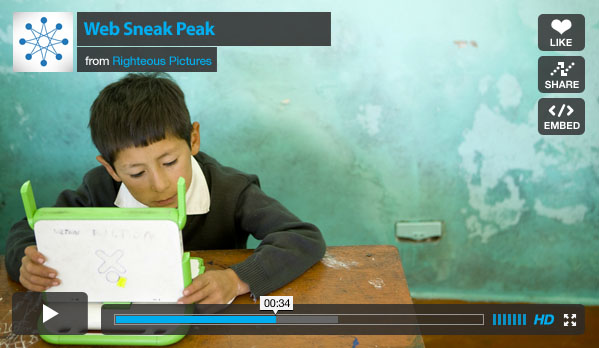 Last year the filmmakers at Righteous Pictures approached us with an intriguing idea. They had nearly completed their feature film 'Web' which captures the story of what happens when Internet access arrives to a remote village in the Amazon. They wanted to use their film to further our efforts of increasing Internet access around the world.
Sprinkled with interviews from Internet luminaries like Vint Cerf (co-inventor of the Internet), Jimmy Wales (founder of Wikipedia), and writer Clay Shirky – Web explores what it means to be disconnected and what happens when Internet access is turned on for the first time.
The story focuses on the families of Palestina, a remote village in Peru, who were taking part in the One Laptop Per Child program. The children were given laptops, and the village was wired up to the Internet – what happens next is amazing.
While children explored the world that exists outside their small village, adults looked on in both fear and awe of what this new source of information would mean for them.
Though the film is slated for release later this year we're delighted to announce some sneak peaks of their latest clip, which will soon be released by Wikimedia in a Wikipedia year-end update. As their non-profit partner all donated funds raised by the film will benefit A Human Right and our work to connect the world. Watch the clip here and sign up to the Web mailing list for film updates!