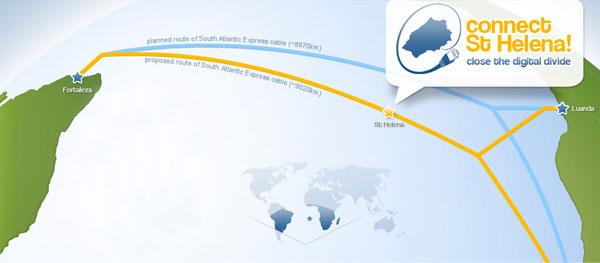 Today is a special day: A Human Right successfully convinced a number of parties to move a transatlantic fiber optic cable from its planned route. It will soon bring Internet access to some 4,200 people on a remote island so remote that Napoleon was exiled there – 1,200 miles from the nearest land mass. This is how we did it:
In January of 2012, we received an enthusiastic e-mail from a gentlemen named Christian Von Der Ropp:  "I'm currently in discussions with the government of St. Helena, one of the most remote islands in the world, situated between Southern Africa and Latin America in the South Atlantic. Its population suffers from its isolation: 4,200 people can only get online through a rudimentary and expensive satellite link. I want to change this."
Of course we were interested, everyone deserves fast and inexpensive Internet access!  His message continued:
"In 2012 one of the fastest submarine fibre optic cables, the South Atlantic Express (SAex), will be laid across the South Atlantic.  It will connect Cape Town, South Africa with Luanda, Angola and Fortaleza, Brazil. This cable, as planned, will pass St. Helena by a distance of ~500 km. However given it's Y-shaped route the branch could be moved south without getting significantly longer. This would allow it to land on St. Helena and provide great development opportunities to this small and beautiful island."
But, there was a problem…
"Unfortunately the company that will build the cable, eFive Pty Ltd of South Africa, has ignored all inquiries to land the cable at St. Helena.  I see so many resources being wasted every day and I want to change it.  Moving this cable would be so simple and would improve the lives of the people of St. Helena dramatically."
Christian's passion was infections, and moving the cable was a winning idea, so we did the natural thing and invited Christian onto the team to build movethiscable.org
The citizens of St. Helena helped us better understand the benefit this cable could provide to them:
"High-speed broadband would be huge for education. Not only could we make better use of online materials, but with affordable broadband teachers could develop their practice from home."
"I had to leave St. Helena to study. Being 5000 miles away from my family and friends is hard. Not being able to skype with them due to the slow and expensive Internet on St. Helena is even harder."
Strategy was imperative if we were going to be successful, so we got to work.  St. Helena is a British overseas territory, it was vital that the British government was aware of this opportunity – so we brought it to the attention of parliament. On March 13, 2012 we brought the issue to the floor of the House of Commons where we didn't get much traction.(Full Text)
From there our goal was to create some buzz that would be meaningful to eFive, the company building the cable.  We got in touch with the most cosmopolitan magazine for the submarine cable industry, Submarine Telecoms Forum (p. 29), and penned an op-ed highlighting the benefits:  "This would be the first time a landing point of a major submarine cable has been selected solely for social reasons."
And Wired followed up with a beautiful story, "155Mb/s (of the cable's 12.8Tb/s capacity) for the island should yield a 21 percent increase in the island's economic growth."
At first it seemed like nothing was happening, but slowly the e-mails were coming back with positive answers, and the pieces started to fall in place.  We continued our advocacy but it was a waiting game as the details were sorted out.
Today we are proud to announce that the hard work paid off.  eFive has announced two potential cable routes on their website, both include a connection for the people of St. Helena.
There is still plenty of work to do for all the parties involved, but we're thrilled that St. Helena has become a priority and will soon be connected.
It's incredible to think that with a bit of work, and a lot of e-mails, we were able to physically alter the layout of the Internet solely for the purpose of ensuring everyone is connected. Â St. Helena is the first small step of many more to come!
Read our full press release here.